b-seen Music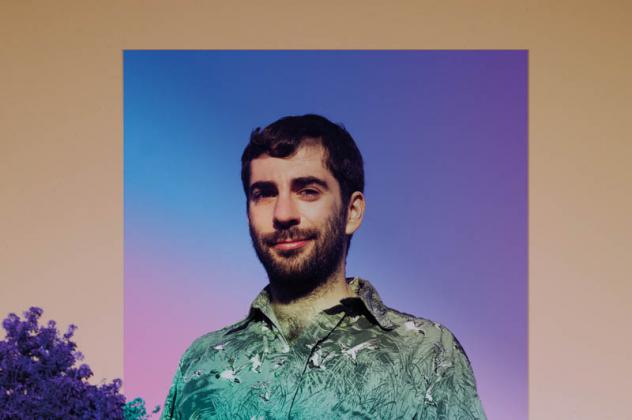 Evripidis Sabatis
& his tragedies
By Sergio Pulido 17.01.14
Already a veteran on the underground Barcelona scene, Greek national Evripidis Sabatis and his group the Tragedies have just released a great new EP of four songs on vinyl with an excellent video clip, Just a Kleenex, funded by the increasingly popular 'crowdfunding' where projects are backed by monetary contributions from friends and fans via the Internet. We chatted with him at a trendy bar in the Sant Antoni neighbourhood to find out how work was going on his latest productions and the current state of his artistic project.
Before starting this interview you've already said that you are completely fed up with being asked about how you came to be here in Barcelona but given that this is your first interview with B-Guided and that our readers may not be familiar with your work I'm going to ask you anyway to tell this story?
I came to Barcelona via Greece after living for a while in London, I was depressed, stuck in Athens without any creative release, I didn't know what to do with my life. I had a boyfriend back then who was also Greek and came to live in Barcelona and I said, " You'll love it here, it's very pop, the Spanish are lovely, there are a lot of places and bars with music you'll love." I already knew something about the music scene here, like the music label Elefant Records, and my best friend from Greece also told me she wanted to come and live in Spain, we looked at some schools of illustration in Madrid, but eventually we ended up going for Barcelona. We started a postgraduate course and I finished graduate school. I found a boyfriend here, could not get work, then I finished with the boyfriend and found a job. I knew I wasn't going back, I settled down and started playing in bars, first playing the piano on my own, which at that time had become fashionable because of Rufus Wainwright, the climate was right for this type of singer/songwriter. I became popular and this whole hype started to surround me, I did a concert at Razzmatazz and suggested putting a band together to back the song, something like a soloist with invited guests, but the guests were very opinionated and important to the project, friends for life. So I've played at Primavera Sound, at BAM and every other venue here that I'm aware of. I work with people who are my friends, who believe in the group and who I believe in. What has changed is that before I wanted a bigger line-up, we were once up to 8 members or more, now I prefer to work with maybe 4 or 5, creating something more solid. A bigger band is no longer possible in a Spain which is still in recession. It's also complicated to find a place to rehearse, to try out the songs, so I'm fine with the current downsized line-up.
All the same I've noticed that there's a long list of collaborators on the new EP
The single has a lot of guest artists on it because I've followed up on the previous album which had a big band sound. Now I'm in the middle of mixing a new LP that's already recorded, although I have no release date. I would say more than promoting the single, I was interested in promoting the entire project, of everything I do, but hey, in fact this production contains duets with Marc and Laura of Doble Plate, a group which besides being personal friends I admire a lot, we always sang together informally and now it's moved on to a more professional basis they're my back-up singers on the record and are co-producers.
The single and video were financed by 'crowdfunding' over the internet, tell us how that process works?
They were friends and internet-surfers who made an effort and put up what they could, they helped us pull the thing into shape and were a significant moral support and on a practical level it was a pleasant surprise. It was great. Then there were singles and autographed pictures for anyone who helped. On the other hand the not so nice part is that I hate asking for money, and sometimes the fact that you have to be registered on a page is complicated and cumbersome and that might make some people think twice. I might do it again, it seems a legitimate method, but I found it a bit awkward too.
In the newspapers it sounds cool: supportive people that fund an artist's project ....
Yeah, but there are so many problems in the world ...asking for money for a music video I'm doing might sound a little frivolous. I'm from Greece I know what it means to be poor.
Tell me about making the video ...
We wanted to do something with an aesthetic like Nan Goldin's or Larry Clark's. Capturing this idea of marginalised youth slightly on 'the wild side'. We wanted it to be filled with beauty. We wanted to use some of the imagery of The Smiths, where Morrissey falls in love platonically, with shaved headed guys, there are cemeteries like the ones in 'Cemetery Gates' where these really young kids go who are like skinheads, that ambiguous relationship which is just a friendship without anything sexual but which could be, one is in love with the other but can't really express it ... and as the song is about throwaway love, it's about someone in love with someone else who isn't, the type of relationship that leaves the person feeling empty thinking that the best they could do was fuck and comparing themselves with a tissue ... and all in the context of a song with a very pop sound. There is irony and pain in there, it's about things that cannot be.
Who hasn't had a relationship like that? ...
It's an unrequited love which eventually works out but only a fraction of what you expected, the only thing you have to show is rather than being bitter saying to yourself " well at least we had a good time while it lasted", and hence the title of the single, " ... And it was good while it Lasted , Baby! "
And the new album that you just recorded, does it have a title?
I think it will be called "Futile games", it's about the things that always mattered to me like my loves, friends, memories and death. It starts with songs about love and hope, becoming gradually more bitter and depressing, reminding you that relationships are just a futile game, but finally at the end saying that love is still the answer even if it is a futile game, it's the only antidote against death.
You are just about to go to the U.S. to play?
I have come up with some dates in New York, playing with other groups, and among them are musicians who participated in the '69 love songs' by The Magnetic Fields which is one of my favourite albums of all time, so I'm really happy. It will be a return to my roots: playing alone on a piano. At heart I'm someone who tells stories.
"... And it was good while it Lasted, Baby! " is available on Spotify, as well as the whole back catalogue of Evripidis and His Tragedies. The record can be purchased at the band's gigs.
Photography; Laia Benavides