b-seen Music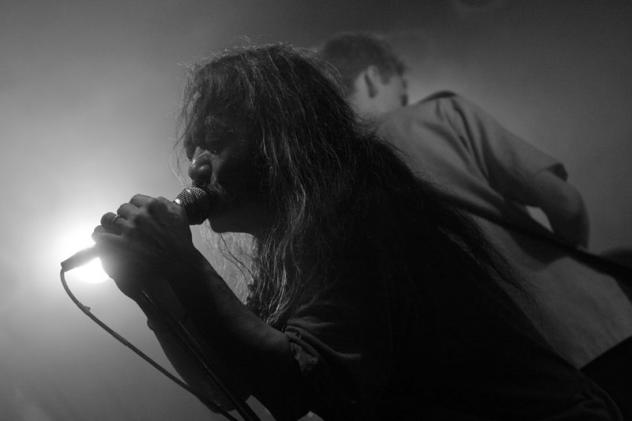 Damo Suzuki
By José Serrano 05.09.12
One of the legends of contemporary music returns to Barcelona offering us one of his unique performances this time with 'The Eclectic Trio', a line up specially created for this concert that includes Xavi Lloses (keyboards), Oriol Roca (drums) and Nico Roig (guitar). The careers of these three conservatory musicians couldn't contrast more with the peripatetic lifestyle of Damo Suzuki, who at twenty years of age was discovered singing in the street by the members of 'Can' who made him a star, a status which he renounced three years afterwards. Fifteen years later he would take up performing music again with the Damo Suzuki Networking concept, that involves visiting cities and improvised playing with local musicians. The words of his songs will not found in any dictionary, they are more subtle and can be read in many different ways creating a unique interaction with the spectator.
Have you listened to The Fall's track about you? What do you think?
There must be another Damo Suzuki. It's like nowadays you can find fake Japanese restaurants run by Chinese and other nationalities. It's Japanese food as such, it's healthy, but what they make has no philosophy. It's just about money. In fact, nowadays you can find Damo Suzuki used as an email address, facebook page, My Space... Who is the real Damo Suzuki?... It doesn't matter. Mark E. Smith must be, he's been singing this for more than 25 years. So, perhaps he believes he is the one after all those days.

What is the meaning behind your music?
Music was born as communication, for sharing one's feelings with others. Maybe it was not just music, it was like smoke on the hill to say "hello" to somebody else on the next hill. Without any system or material thought. I create time and space in the moment with ever changing local 'sound carriers' (musicians) around this planet, it's just like really good chefs cooking with fresh local materials. It's local taste... not global. My releases are local... Spain, Italy, Australia, Japan, UK... with local 'sound carriers'. Music is communication, communication is not repeatable. It has to be fresh, to go forward. Otherwise it's something dead which will never see the light. And music is also light which gives you energy, hope and pleasure.

Do you think it's important to struggle a little in life?
If you want to be like a plant you don't need anything, someone gives you water, but, you remain still in the same space. We have to go further than that, one has to experience many things. It's our food.

What is the least interesting thing about being alive?
No day is comparable to another. There are many ways of looking at it. Learn things from other people. Being touched by new situations... You can control time if you're free....

Do you have your own personal dictionary?
I don't need it, I have my own rules. I don't believe in the establishment things like royalty, religion, the system or money... Those things just force us to become their slaves through our lives, they don't help with anything. Everybody is equal under the same sky.

What do you think of the cult following you have?
I have no right to stop them. It doesn't matter if I like it or not...

Your voice sounds the same as when you started out and you look great. What's your secret?
I don't know if I agree with your question. I'm better than before as vocalist. I developed my philosophy, I eat different. I don't think I look that good. I'm getting more compact and ugly.

What music excites you more recently?
Our music, sharing our energy with the audience I don't really listen to much music... it's not necessary. If you like football, you like to play much more than just watching it. At home I listen to classical music... Are you surprised? There are many composers who I like, mainly from the St. Petersburg school. Prokofiev, Rachmaninoff, Bolden, Shostakovich, Stravinsky, Tchaikovsky, etc... But what excites me?... Is not the real word. I get excited when I see nature creature, not really from human made, artificial stuff.

What's your best and worst memory from your travels?
There is no best, I always feel good when I perform. I'm really happy that I have this opportunity and every place I go, I've got friends. I don't like to compare one with another; everything has its place in this planet to make it a wonderful world. The worst part about travelling is getting sick, like now. I've got gout.

What's the definition of art for you?
Stealing time from other people in a good way. And to open people to new dimensions, motivations, hope... I don't like distracting arts. I don't like negative energy. It's not good to share this, send it to the block headed Japanese government, they never understand how nuclear power is dangerous and they want to start it all over again. Together with all those politicians, all this negative energy should be sent far out of the universe.

If you could collaborate with any artist, who would it be?
If I could?... I'm doing it in every show. There is no difference between the upper and lower, so, there is no leader, no system, no concept. Free energy as God made us.

Are you involved with any spiritual religion now?
If you're involved with spontaneous composing like I'm doing somehow you're spiritual. I believe in the Bible. I don't believe in the Church... as it's placed within the middle of this system.

If you where not a musician, what would you be?
Am I musician? I would never say I'm a musician officially. Only at passport control at customs on the border because these control people never understand the world. If I say I'm a metaphysical transporter, a sound carrier or a supporter of quantum physic, they would just think I'm a small animal with long hair from a hippy museum from outer space.
The 17 October
La [2] de Apolo
Nou de la Rambla, 111
DAMO SUZUKI + THE ECLECTIC TRIO