Neri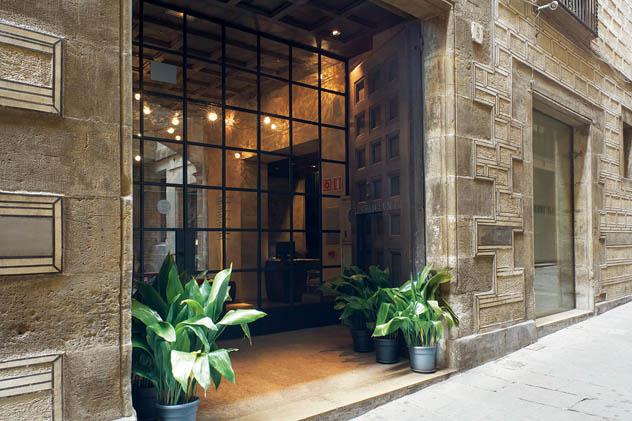 • Categoría: 4 stars
• Rooms: 22 rooms
• Location: located in the heart of Barcelona's Gothic neighbourhood. A pedestrian area adjacent to the Plaza de la Catedral and the Plaza Sant Jaume; just 10 minutes from Plaza Catalonia and Paseo de Gracia.
• Design: The hotel in fact consists of two separate buildings, a magnificent medieval palace and a stone structure partially destroyed during the civil war, refurbished in 1958 by Adolf Florensa, creating an impressive façade onto the Plaza Sant Felip Neri with its 12th C walls that is easily recognised today separating the restaurant and the bar area within the contemporary refurbishment.
Roman ruins were discovered under the building during the construction of the hotel which were catalogued by city archaeologists including Phoenician ceramics later handed over to the city's museums.
Interior designer Cristina Gabás wanted to create a unique environment, "exploring the limits of luxury without being vulgar" inspired by the search for balance between excess and moderation in order to find a compromise where both extremes can co-exist.
• Highlights: the hotel has an excellent restaurant, where Chef Benito Iranzo combines tradition and modernity in an intimate space, resplendent yet warm, a harmonious approach, romantic and magic with its medieval arched stone walls transporting diners back to the 12th C. It also has a well stocked library with large windows overlooking life on the streets surrounding the hotel located right in the heart of the former Jewish district, calm and relaxed, velvet sofas, metal chain curtains, iron seats, glass chandeliers, books, novels, magazines and… all the time in the world to enjoy Neri.