Nacarii Store Barcelona
Caviar sales and sampling space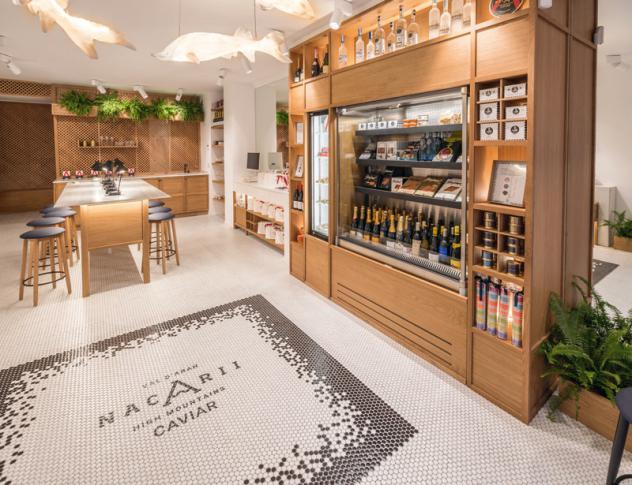 OFFERING: Located in the up-town area of Barcelona, Nacarii Store is both a point of sales and open space for activities (tastings and events) aimed at promoting the culture of caviar; in order to do that it includes two different areas. Customers will find the three varieties of Nacarii Caviar; Tradition, Selection and Premium, together with different smoked sturgeon loins. To complement the experience, other gourmet products are also sold including preserves, foies, smoked products and a careful selection of wines, vodkas, cavas and champagnes.
HIGHLIGHT: The Caviar Nacarii company is based in Val d'Aran, dedicated to the production of artisanal and sustainable aquaculture of Siberian sturgeons on the Garonne river. Heir to the traditions of Iranian masters, it only produces fresh (unpasteurized) caviar. A caviar considered one of the best in Europe, much appreciated in countries such as Russia, France, the United Kingdom and Japan and which has received numerous international awards.
INTERIOR: The store has the signature of the interior design studio Miriam Barrio, which has evoked the tradition, origin and proximity of the brand with noble materials such as marble and oak, chosen in natural and matt finishes. It features a ceiling lamp with sturgeons and a circular black mosaic on the floor, which refers to the caviar pearls.
PRICE: From 28 € (10 g Caviar Nacarii Tradition + 2 glasses of cava or vodka). Nacarii Caviar: Tradition, 50 g 100 €; Selection, 50 g 125 €; Premium, 50 g 160 €.
Francesc Macià
Mon–Sat: 12 midday–9pm
Sun: 10.30 am–2.30pm