Gats
Neighbourhood bar, Old City, Barcelona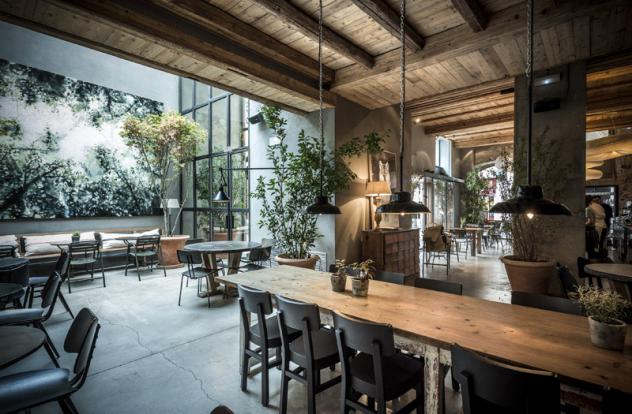 OFFERING: Market cuisine made with fresh seasonal products, which incorporates ingredients and recipes from other cuisines of the world. A very varied and creative menu with flavours for all palates: Baba ganoush (aubergine puree), Carpaccio or Curry, classic tapas like Patatas bravas, Spanish Omelette or the Iberian bellota ham, and typical dishes of Mediterranean and local cuisine such as Gazpacho, Calamares served Andalusian style with lime sauce and Fideuá.
HIGHLIGHT: Gats re-imagines the concept of a neighbourhood bar with a modern gastronomic offering, adapted to the cosmopolitan and multicultural life of Barcelona's Old City, with a very contemporary design that nevertheless makes reference to the traces of time printed on the walls and ceilings of the premises.
INTERIOR: Austere and minimalist, but warm and comfortable, with lots of natural light and the vintage-chic touch of local interior designer Toni Espuch.
RECOMMENDED: Their rice dishes and fideuá al carbón; the salads like Kale and Quinoa with tomatillo vinaigrette; Bonito Tataki with ponzu and sweet tomato and Mint chicken.
PRICE: 25-30 Eur.
L1 L3 Plaça Catalunya
Mon-Sun: 12 Midday – 12 Midnight